Pyramid Head is a Silent Hill antagonist introduced in Silent Hill 2 and has stayed a fan favourite since his first appearance. He has also appeared in Silent Hill: Homecoming and the Silent Hill movie. Pyramid Head was named by fans and is called so because of the pyramid shaped helmet he wears.
Game:
Silent Hill 2, Silent Hill Homecoming
In Silent Hill 2
Edit
In Silent Hill Homecoming
Edit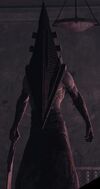 In Silent Hill: Homecoming he is known as the Bogeyman who showed up to take the children of Shepherds glen away. He has no major part in the story and you never have to battle him like you do in Silent Hill 2. In Homecoming he is modelled more from the movie, more muscular and larger than he was in Silent Hill 2. He is seen on three seperate occasions by Alex:
In the hospital - After Alex is wheeled in, the 'doctor' can be seen being cut in half by a giant knife. The Bogeyman's knife.
In the Hotel - This is when you first see the Bogeyman in full. He doesn't see Alex who is hiding behind some rubble.
In the Church - After being attacked by two Siams and completing a puzzle Alex comes across Adam who is tied up in chains. After their conversation Bogeyman appears behind Adam and kills him with his knife, slicing him in half.
In the Silent Hill Movie
Edit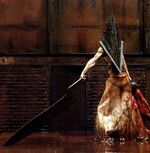 In the Silent Hill film, Pyramid Head is larger and more muscular than his Silent Hill 2 counterpart. He has no part in the plot of the film and was probably put in to make fans of the series happy. He is played by the films movement co-ordinator, Roberto Campanella. He is only in the film a total of three times:
Midwich Elementary School - When Rose looks around the school for Sharron, Rose comes across him but manages to escape before he sees her.
Midwich Elementary School (Again) - This time he's walking the halls but sees Rose. Out of nowhere she's dragged into a room by Cybil but Pyramid Head continues to attack. When a siren h=is heard in the background he evaporates with all the roaches that surround him.
Church - When Silent Hill foes dark, Anna leads Rose and Cybil to the church where Dahlia waits on the steps. Anna startes throwing stones at Dahlia who has been shunned by the religion. At this, Dahlia summons Pyramid Head who kills and skins Anna.
Trivia regarding this character. Put each bit of trivia in bullet points:
Trivia 1
Trivia 2
Trivia 3
Trivia 4
References
Edit
Put links of your references here. For help on how to do this click here
External Links
Edit
If you of any good sources of information on your particular game please put them here.